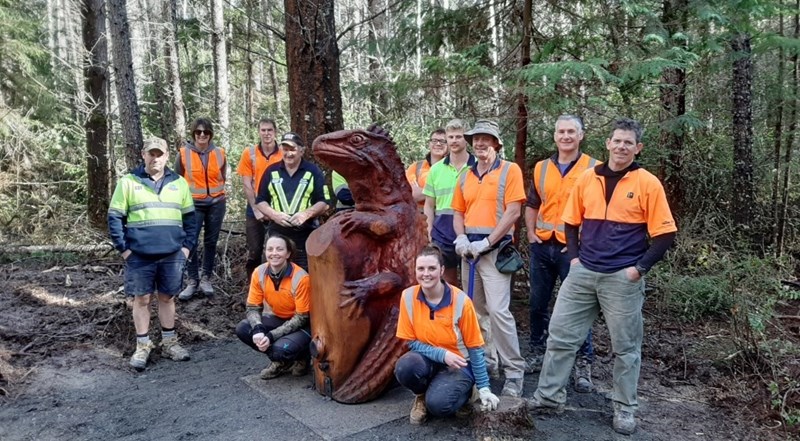 New plantings in Hanmer Forest increase diversity
25/11/2020
Following the harvesting of a small block of Larch in Hanmer Forest, Rayonier Matariki Forests together with Hanmer Heritage Forest Trust held a community planting morning which saw around 800 coastal redwoods planted.
Hanmer Heritage Forest Trust chairperson, Pauline Bennett said it was great to see species diversification in the forest, adding to what is already a very popular local attraction for Hanmer Springs.
"We realise that as a commercial forestry company, Rayonier Matariki Forests would have normally replanted pine or larch on the one hectare site but they embraced our idea of planting coastal redwoods to enhance the area and make it even more appealing to visitors, so we really appreciate their support," said Ms Bennett.
In addition to the new planting the latest sculpture created by Christchurch artist, Andrew Lyons, was installed in a recently-cleared area, joining eight of his other sculptures which feature around the Forest Amble. The tuatara, along with his previous works, were carved out of large slabs of redwood recovered from the Hanmer Springs area.
Darren Mann of Rayonier Matariki Forests said the forest has always been very popular for public use and it was a real asset to both the diversity and attraction of Hanmer Forest to have the Redwoods planted and a new sculpture installed.
"It was a great day which we used as a team-building exercise. Gavins Logging crew and Hanmer Heritage Forest Trust also pitched in to plant and fertilise the seedlings we had provided. The Gavins crew are all Hanmer locals and it was really nice to be involved with them as part of this beautification project. We're looking forward to seeing the seedlings develop into majestic trees, said Mr Mann.
Front photo: Amy Jackson and Peter Robinson of Rayonier Matariki supervise Hanmer Heritage Forest Trust chairperson Pauline Bennett as she plants one of the young Coastal Redwood seedlings.
Above photo: Rayonier and Gavins Logging staff enjoy the new tuatara sculpture.