Pauanui walkway a delight for locals and tourists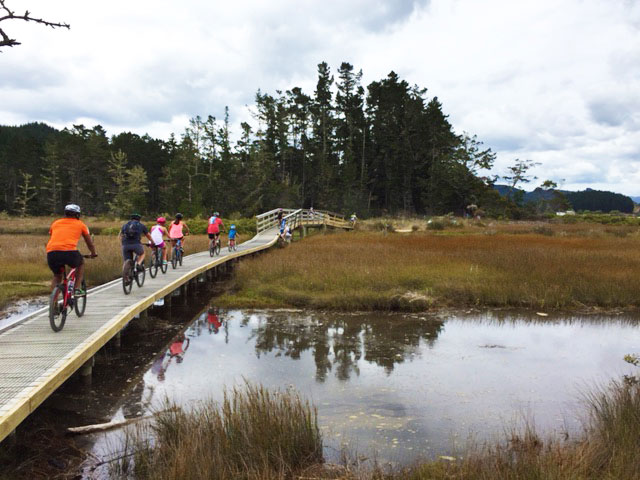 A new walking track and cycleway linking Pauanui and Tairua delights locals and visitors.
The first stage of the Pauanui-Tairua Trail Project opened with the help of Rayonier Matariki Forests funding and will provide a wonderful scenic cycleway and walking track linking Pauanui and Tairua.
We are delighted to be a part of this great initiative which is a real asset to the community and a drawcard for visitors. Forestry has a long history in this community and with views of our Tairua forest all around the walkway, it was important that we be a part of this ambitious project.
The first four kilometres of the planned 25km track runs from Pauanui to Awa Whio Whio (Duck Creek).
The next stage of the walkway will run to the old one lane Hikuai Bridge close to Hikuai School and then proceed down the North Western side of the Tairua River and estuary, linking up with the public access way from the Tairua Primary School.
The next stage of the plan will see a further six kilometres developed, to Prescott Garage, which will include a cycle way.
Galvanised steel girders from Auckland's Waterview tunnel boring machine (known as "Alice") have been purchased and will be used in the construction of bridges throughout the trail. Hikuai District Trust trustee, Jeanette Waters, said the Trust was extremely grateful for Rayonier Matariki Forest's support. "Rayonier was the first company to come on board in 2013 and have faith in us to deliver this huge project. Without their substantial contribution we would not have been able to get the trail underway as quickly as we did and having the forestry workers' professional skills to assist with felling trees and cleaning up a slip was a huge help."
We look forward to celebrating with the local community when the project is completed.