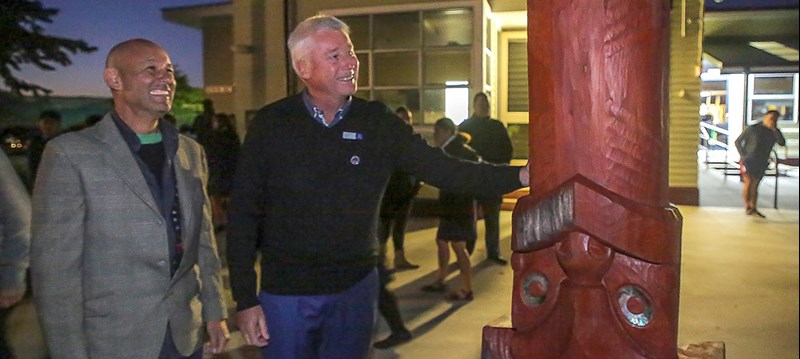 Connecting kura and community
15/04/2021
A massive matai log gifted by Rayonier Matariki Forests to two Hastings schools has been transformed into a masterpiece by whakairo (carver), Nathan Foote.
The log which had been lying on Maungataniwha Forest's floor for around 40 years, and is estimated to be 300 years old, was split lengthways into two and given to Frimley School and Kimi Ora Community School.
Last month, Frimley School held an emotional unveiling and blessing for its pou – Te Wao Tapu Nui.
Principal, Tim White, said the journey of the pou had provided the children and staff with an incredible experience.
"Nathan came to the school one morning every week for nine months to carve the pou. The children were given a very special opportunity to learn about the cultural journey and to see a traditional Maori carver in action," says White.
The front of Te Wao Tapu Nui displays creation story Te Wehenga — the separation of Ranginui (the sky) and Papatu¯a¯nuku (the Earth). The middle displays Tane Mahuta and the back talks about the place it sits and the resources such as forests, fresh water system, estuaries and the species that live there.
Kimi Ora's pou, Tane Mahuta is expected to be completed and installed by the end of the year and the pou will connect and unify the two Hastings schools through a strong emotional link.
Matt Croft, Hawkes Bay regional manager for Rayonier Matariki Forests said it was an honour to gift the matai log to the two schools and it was very rewarding for local staff to see the transformation of the log into the beautiful pou.
"Our crews discovered the log while harvesting and given its size and excellent condition it was put aside until we could find a special purpose for it. It took quite some manoeuvring to get the log out of the forest, onto a truck, and delivered into Hastings for Nathan to begin the carving, but today's unveiling has made it so worthwhile," says Croft.