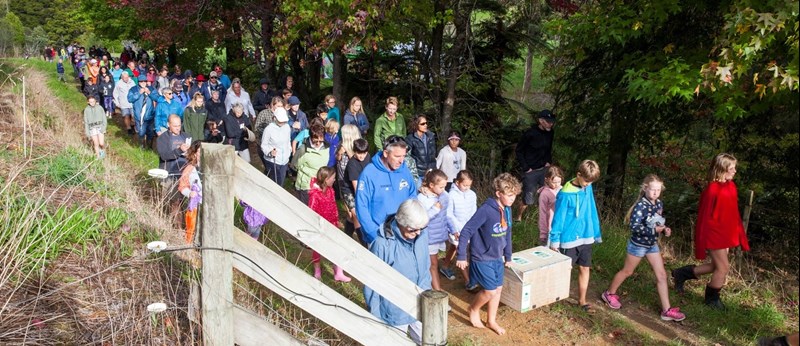 Glenbervie Forest plays host to increasing kiwi population
18/05/2021
Kiwi numbers are increasing in Glenbervie thanks to the massive efforts of local landowners, Rayonier Matariki Forests, Kiwi Coast, Department of Conservation and Northland Regional Council.
Rayonier Matariki Forests is investing more than $100,000 over a six year programme for predator control in its Glenbervie Forest, helping to create a safe haven for Northland Brown kiwi. Northland Regional Council and Department of Conservation are also contributing funds and resources to support the work of local farmers and landowners.
The main objective of the project is to reduce mammalian pests, including mustelids, feral cats, possums and goats, to allow native fauna and flora to recover and regenerate, particularly kiwi.
Now in the project's third year, Kiwi Coast Coordinator, Ngaire Sullivan says through kiwi call counting they have seen kiwi numbers stabilise over the past few years and appear to be edging up.
"Predator control is key to protecting kiwi as 95% of kiwi chicks are killed by stoats if left unprotected. In the last year the predator programme saw a phenomenal number of stoats trapped in Glenbervie Forest, creating a growing corridor for kiwi and other species to thrive on the Kiwi Coast."
The Kiwi Coast is a collaborative initiative that links over 200 community-led conservation projects, iwi and hapu, schools, forestry companies, government agencies and organisations in the shared vision of restoring the health of native forests, helping native wildlife thrive and increasing Northland kiwi numbers. Over 205,000 hectares are now collectively managed by groups and projects linked into the ever-growing Kiwi Coast, and momentum continues to build as more and more communities get involved.
Adding a significant boost to kiwi numbers in the region was the recent release of 10 Northland Brown kiwi into the Taheke Landcare's 2,000ha predator controlled area, near Rayonier Matariki's Glenbervie Forest.
Will Steward, Northland regional manager of Rayonier Matariki Forests says the addition of these new birds into the local area will add to the remnant population already established in Glenbervie Forest.
"The new birds have been raised on the predator free Motuora Island in Hauraki Gulf and are now big enough to survive in the wild. If these new kiwi disperse the short distance into Glenbervie Forest they may interbreed with our remnant kiwi population there. This will not only help to diversify the genetics of our local kiwi, but also strengthen the long term viability of the Northland brown kiwi population as a whole.
"As Northland kiwi can successfully nest and live in plantation forests, we have been very focused on assisting the local community to ensure they are protected and can thrive. The best thing we can do is keep them safe from predators," says Will.
All photos credited to Wendy Brown