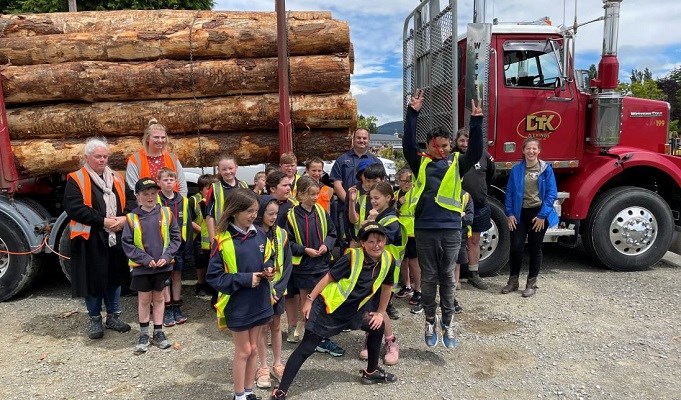 Little learners get big truck experience
22/12/2021
The school day was a little different for a group of Otautau School tamariki recently when a logging truck came to visit along with a day spent learning about the forestry industry.
The visit was co-ordinated by Rayonier Matariki Forests (RMF) as part of the Wood is Good programme.
Sarah de Gouw, Harvest Forester at RMF, and Paul Williamson and Daniel Diack from D T King Transport gave the children a taste of what forestry involves and safety around logging trucks.
"Being in the heart of rural Western Southland, Otautau School has a close relationship with forestry through being located near a number of plantations and with a number of school families being involved in the industry," says Sarah.
"As well as educating them about the role of forestry in their community, we also want to ensure they know how to stay safe on the roads."
Wood is Good is a national forestry and log transport programme developed for primary schools and funded by Ministry for Primary Industries and the Forest Growers Levy Trust.
The day involved talks, videos, competitions, stories and hands-on experiences. Sarah flew the Mavic drone – which is used for mapping and monitoring plantations – and showed the children the aerial view footage.
"A lot of the children thought forestry could be the job for them. Working outside with big machines and high-tech drones got them really excited," says Sarah.
Daniel arrived with his truck full of logs and the children enjoyed jumping into the cab and having that 'big truck experience.'
Paul says driving a big truck is a highly skilled job and knowing how to drive on all sorts of roads and in all conditions is a big part of it.
"It's not every day that the kids will get up so close to a logging truck but it is a memorable way to cement the messages and I'm sure it has inspired some of them to become truck drivers!"