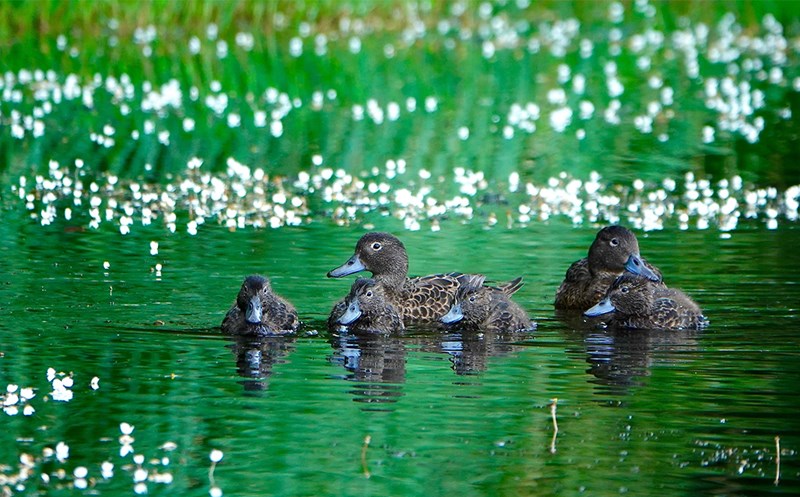 Wetlands welcome back threatened bird life
25/03/2022
One of the largest remaining wetlands in Waikato, Duck Creek Wetland, is home to several at risk bird species that have been under threat by local predators.
Duck Creek is located within Rayonier Matariki's Tairua Forest and the adjacent Lakes Resort Golf Course in Pauanui and is home to the endangered Australasian Bittern, Brown teal duck and at-risk North Island Fernbird, New Zealand Dab Chick, New Zealand Dotterel, Banded Rail and Spotless Crake.  
The wetland is considered a Significant Ecological Area and in order to protect it and the inhabitants, Rayonier Matariki Forests (RMF) has been actively managing the control of invasive plants and pests since 2019.
RMF's Bay of Plenty District Forester, Rob Schoonderwoerd, says measures have been undertaken  to prevent unwanted plant and predator species taking over the wetlands.
"We have put in place control programmes for wilding pine, pampas and gorse, as well as Royal Fern – a weed that is detrimental to wetlands.
"Last year, in collaboration with the Waikato Regional Council, we set up and managed 40 traps within the forest which has already seen significant results," says Schoonderwoerd.
Waikato Regional Council provided the trapping hardware, RMF distributed them and volunteers undertook the baiting and clearing of traps.
Rob Corkill, Catchment Management Officer at Waikato Regional Council says Duck Creek is an extremely valuable wetland habitat.
"With a number of quite rare and threatened bird species, anything we can do collaboratively to protect them, is one of our core roles in biosecurity and pest management.  It ties in with a lot of predator control work we are doing around the coastline of Coromandel to ensure the area remains home to some very special inhabitants," says Corkill.
In just nine months, over 1000 pests have been caught, with rats, possums and mice being the most common but also including feral cats, weasels, stoats and ferrets.  A local experienced pig hunter has also been brought in to catch wild pigs.
RMF's predator control activity dovetails with that in Pauanui Lakes Resort residential area and Pauanui Resort Golf Course, who have caught over 3,000 pests since trapping records began in April 2020, bringing the current total to over 4,000 pests having been eliminated.
The management of the three trapping projects is undertaken by Lakes Resort resident Phil Wilson.  What started as a volunteer role has turned into a sustainable predator control business.
"During the first Covid lockdown in 2020 I had time on my hands and spent a lot of it helping my sons bait and clear around 30 traps, on a daily basis, in the Lakes Resort Projects which were originally set up by Tairua conservationist Tim Ferguson," says Wilson. 
"Thanks to Rob's shared passion for preserving native wildlife and the support from businesses and Pauanui Lakes Resort Residents, we now have over 200 traps set 24/7.  With the increase in traps, my spare time became stretched, so at the suggestion of RMF, I set up 'Gone Trappin' and now spend my days doing what I love and getting paid for it."
He is always keen to try innovative methods in an attempt to catch the pests as they get bait and trap wary over time.
"We have to always stay one step ahead, changing baits, changing locations of the traps, to ensure they don't get the better of us," says Wilson.
Schoonderwoerd adds that in the last few months sightings of the North Island Fernbird is common as is increased sightings of the Australasian Bittern and Banded Rail in and around the Forest/Lakes Resort Wetland area. As the predators decrease the native wildlife is increasing.
"As well as constant sightings of some of the at-risk birds we're trying to protect, there has also been an increase in ruru, tui, bellbirds, fan tails, grey warblers and kingfishers.  These are good indicators that the collaborative trapping across the wider area is having a positive effect.  But we're in the early stages of the project so it will be exciting to see what the future holds," says Schoonderwoerd.
Photos: Front page: Dotteral;  Above: Brown Teal Duck Family; Below: Fernbird and Banded Rail